What is Upcycled Clothing?
Upcycled clothing is simply clothing that's been created from unwanted garments that would otherwise be headed for the landfill.
When I make my upcycled creations I try to use clothing that's old, outdated, torn, stained or otherwise flawed. Stuff that even the thrift stores can't sell but that still has some life in it. But it's perfectly okay to use clothing that's in good shape but would look better refashioned into something else.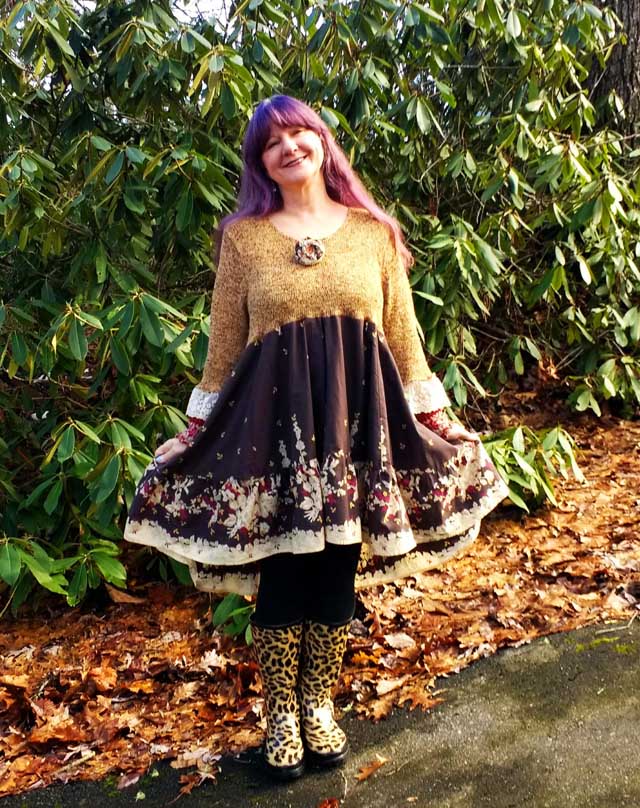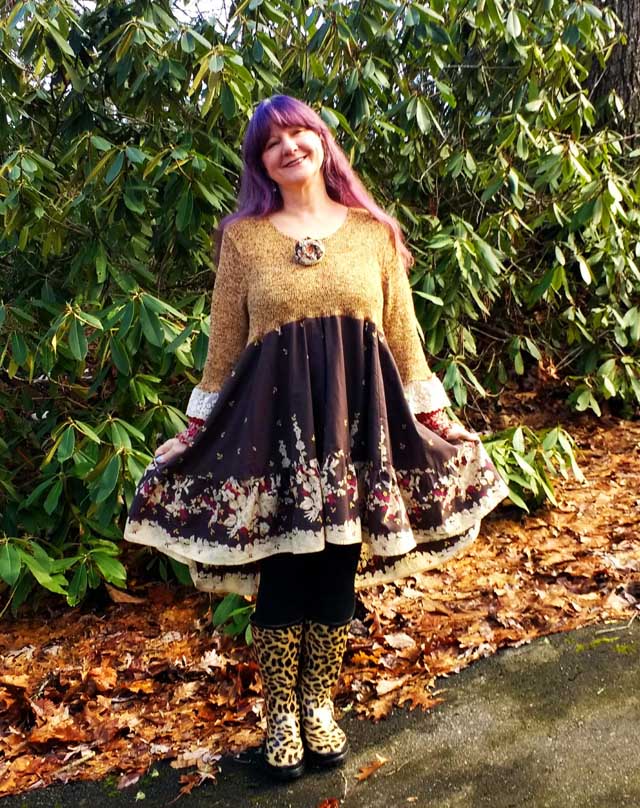 When you upcycle some unwanted clothing into a new garment you're making something totally unique. Something that fits you perfectly and that makes you feel wonderful. It's immensely satisfying.
Fashion Brands Using Reclaimed Textiles
Some clothing brands have started using textile yardage left over from manufacturers in order to keep it out of the landfills. They're finding ways to make them into on-trend and wearable garments. These clothing brands are way cool, in my opinion.
Other fashion brands are at least making the effort to source their clothing in more sustainable ways. With "fast fashion" now being the second largest source of pollution on the planet, right behind big oil, we need to change how we think about clothing – and fast.
Where Can I Buy Upcycled Clothing?
The good news is that there's a growing tribe of amazing creators who are making unique, one-of-a-kind, upcycled clothing. They're starting to pop up everywhere.
You'll find these dedicated refashionistas on Etsy, Facebook (come join us), Instagram and at local craft fairs and festivals. You can sometimes find upcycled clothing in specialty retail stores where creators consign their clothing and split the profits.
How Much Does Upcycled Clothing Cost?
While there are no standard pricing rules for upcycled clothing, you can expect to pay – well – more. Why? Because unlike cheap, mass-produced apparel these garments are lovingly created one-by-one, making them hand crafted and unique – just like you.
Personally, I'd rather support a creator in her endeavor to make a living doing something she loves for people she loves while helping save the planet she loves. But maybe that's just me.
How Can I Learn To Make Upcycled Clothing?
Until recently there really haven't been too many resources for people who want to learn how to make upcycled clothing. But that's changing.
A quick search on YouTube using keywords like "easy upcycled dress tutorial" or "how to make an upcycled
(fill in the blank)" will turn up quite a few videos with ideas for you to try. Some of them are pretty quick and are a little hard to follow, so you'll have to hunt around.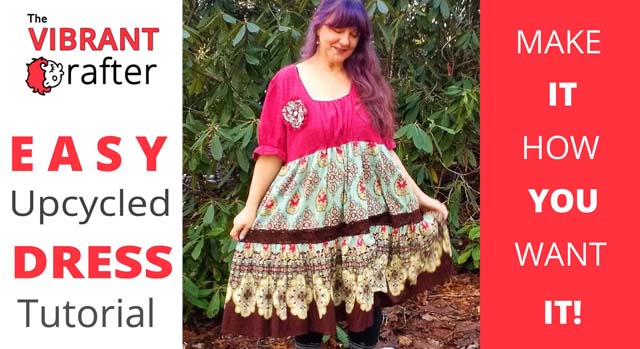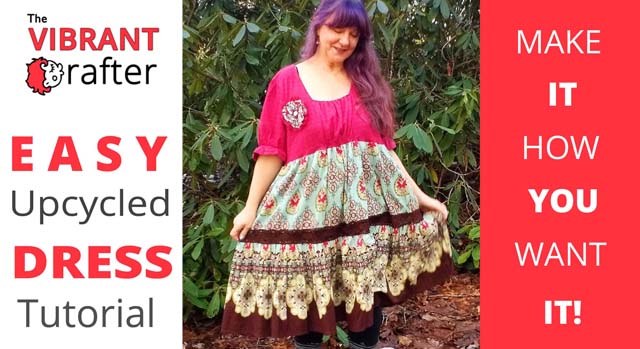 I personally prefer video tutorials that offer an easy, step-by-step process without too much rambling. Not finding any I liked I recently started creating upcycled clothing video tutorials for my Vibrant Crafter YouTube channel (thank you for subscribing – kiss!).
The Benefits of Upcycled Clothing
I cover the benefits of making, buying and wearing upcycled clothing in my post about the #chopdontshop movement, but basically the reason to start wearing reclaimed and sustainably created clothing is this.
If we don't drastically change the way we clothe our bodies – starting now – our planet will become polluted beyond recovery. Future generations will have no way to survive the damage done to the environment and the planet will simply die. No pressure.
My Mission For You
My mission is to help you make that first chop into a piece of reclaimed clothing. I want you to see the vision of what it can be, and then proudly show it off to your family, friends and social network. I want to inspire you to see what's possible.
If we all made or purchased just one piece of refashioned or reclaimed clothing in the coming year, we will have made a small dent in the fashion pollution crisis. We'll have sent a message to the retailers that we will no longer stand for their rampant greed and inhumanity. We will have voted with our dollars.
And hey, on a positive note, we'll all be styling our individuality through the cool and unique upcycled garments we'll have in our totally revamped closet. And you can't put a price on that.
Have you ever refashioned a new outfit from discarded clothing? Do you have some tips to share with my other readers? Comment below and let me know.
With my love, hope and blessings,
Mandy Wildman
The Vibrant Crafter
Founder, the #chopdontshop movement