How To Make Free DIY Leggings from Old Tights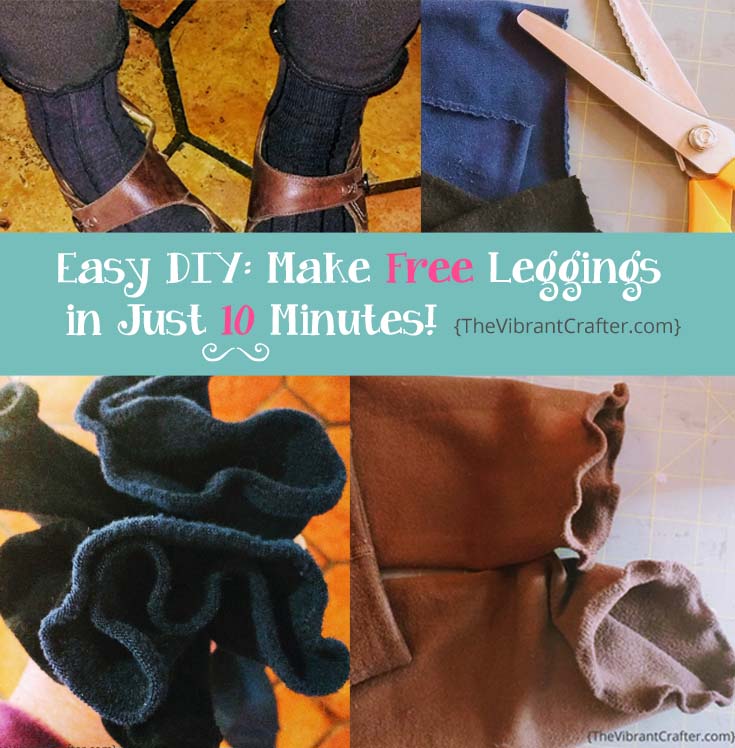 There's nothing more annoying than having to throw an old pair of tights into the landfill. Well wait – there is. It's just as annoying to want some really cool and fabulishus women's leggings and find out that they cost anywhere from $14 up to $55 bucks a pair – yikes! With three girls in our house that could get pricey fast! We need cheap leggings, and it's cold, so we need them now!
But the upside of having three girls in the house is that we have plenty of old tights laying around that mama (that's me) refuses to fling in the landfill. Are you like me? Do you hate to waste perfectly good clothing?
On the other hand, once we're done with our old tights they have had it. I mean – the feet are totally thin and filled with holes and no good to anybody. But before you toss them, read on.
So if you've ever searched for leggings online, you'll know that they come in all colors, sizes, patterns and lengths (calf length leggings look awesome in the summer with a fun tunic top.
Now I know I've touched on this topic before in a previous post about how to make leg warmers and arm warmers using old tights, but this DIY leggings project is a bit different so I thought it would be worth sharing. In this tutorial we're keeping the top part of the tights so that our upper legs and tushie stay nice and warm in winter.
And the best part is – this little free leggings sewing project will take you . . .
. . . LESS THAN 10 MINUTES!!!
You could do it while your kids are eating breakfast or while you brew up a cup of coffee. Yeah, it's that simple!
You Will Need. . . 
An old pair of tights in a yummy color and pattern.
Your awesome sewing machine that does a zigzag stitch.
Some thread, any color (I like to use what I have on hand).
(Optional) Pinking shears.
Step 1
Using your pinking shears if you have some, cut the feet off your tights. If they are salvageable, you can make 18 inch doll panties with them. If they are not salvageable just cut them into tiny pieces to use as stuffing for another project.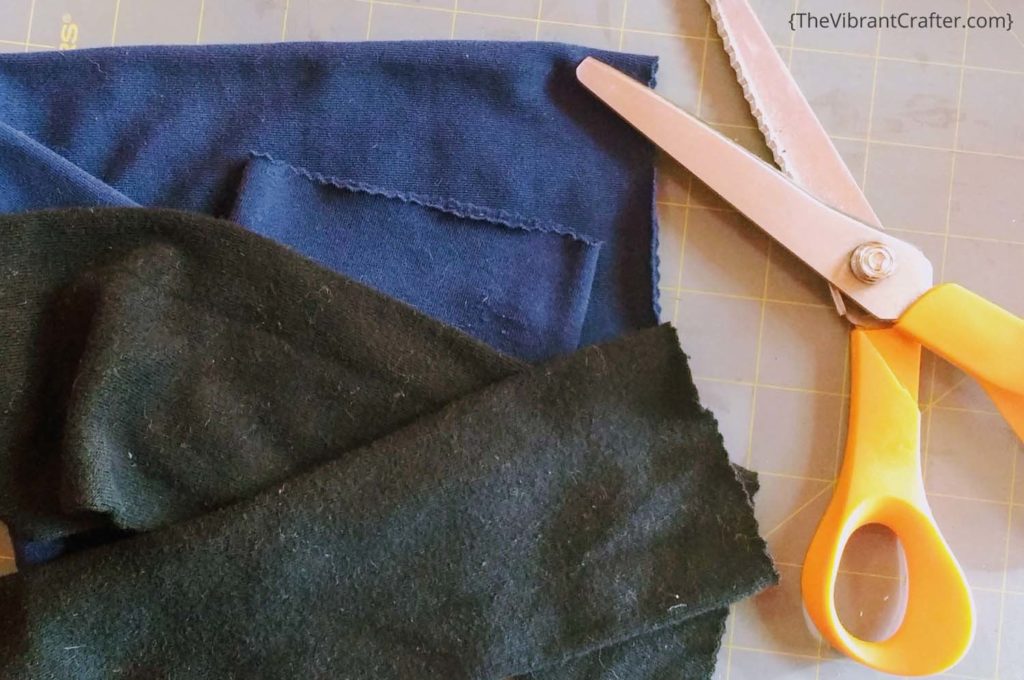 Step 2
You'll notice that the edges of the tights will curl up towards the outside – or the "right side". This is good, because we're going to stitch our "hem" on the right side.
Gently pull the raw edge of the tights and you'll see that the fabric will curl itself into a sort of roll. Now place that under the foot of your machine and zigzag stitch on top of the roll all the way around. Go twice around if you like for added strength.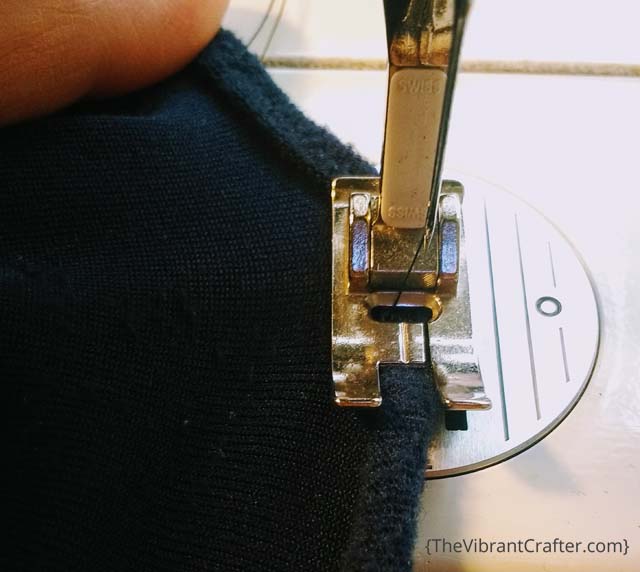 I had an old pair of brown tights of mine that were always sagging and driving me bonkers, so I made me a pair at the same time.
If you want more of a frilly edge, really stretch it out as you sew (don't break the needle, though!). See how the edges are satisfyingly whumpydoo below. Yeah – I like me a nice frill.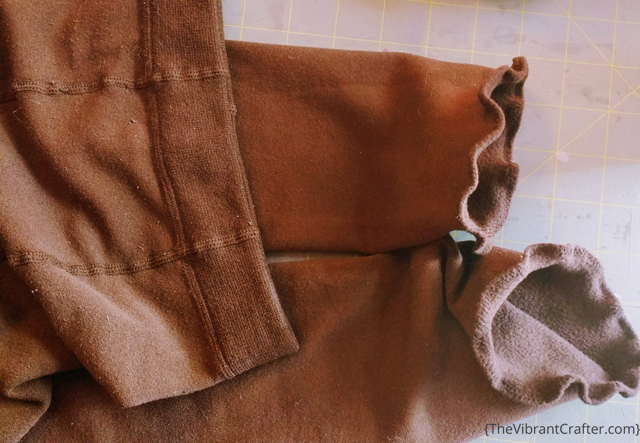 If you want something a bit more sedate, like these navy and black school tights I was sewing for the girls, don't stretch it at all, just let the machine go along on top of the fabric.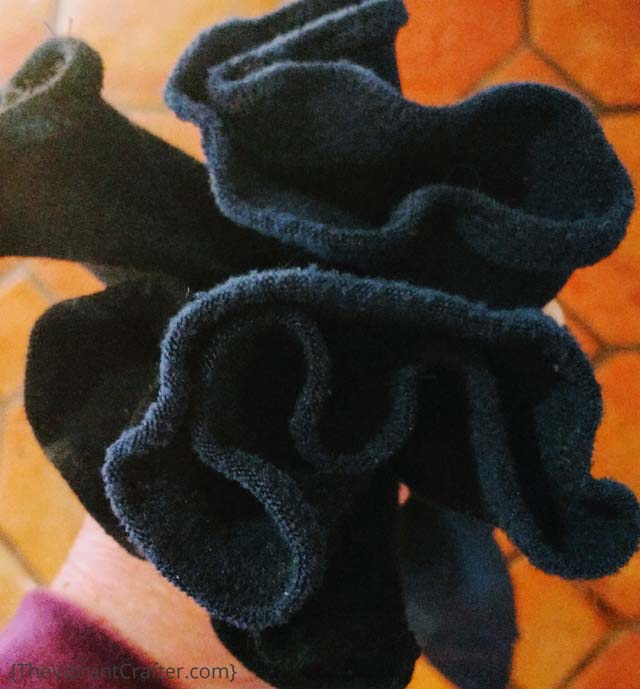 Oh, this is SO satisfying! You're saving the planet AND getting a pair of free leggings. You can make a handful of these home-style leggings in less than half an hour – how cool is that? I loved how mine turned out, and I couldn't wait to wear them today (it was in the 40's) with a pair of socks and my current favorite walking shoes – my super comfy old Structured Clarks (they last FOREVER!)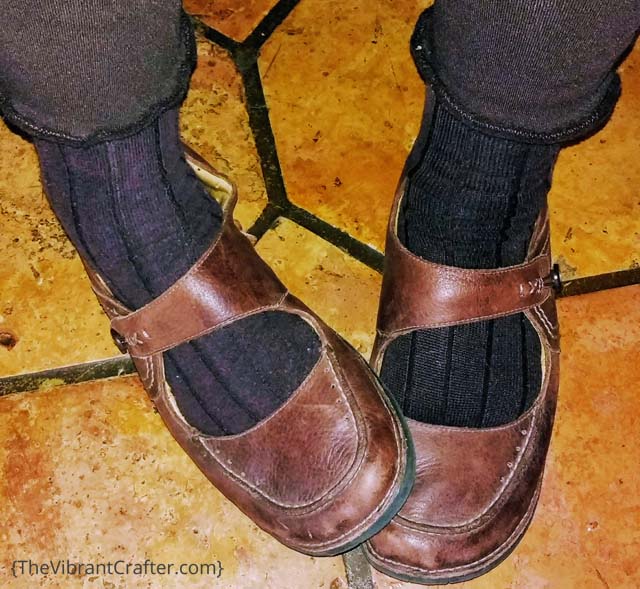 If you're not so keen on sewing, or you're up for treating yourself to a really pretty pair (or two) of leggings, hop on over to ModCloth.com and feast your eyes on all the yummy leggings they offer in multiple colors, sizes and styles. The choices pf color, size and patterns are mind-boggling.
Let me know how you do with your awesome free DIY leggings!
Hugs,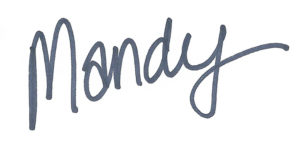 Mandy
P.S. I'd be thrilled for you to have my Glovelies sewing pattern absolutely free as a special gift from me.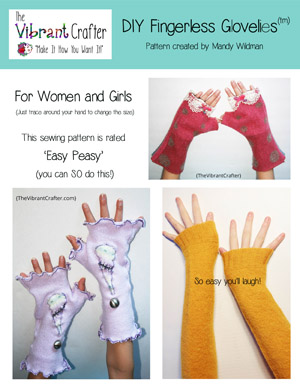 To get the printable pattern, all you need to do is to sign up for my email list below. Once you've confirmed that you are a beautiful human being you'll get a link to download the .pdf version. Enjoy!



Hugs and blessings,


P.P.S. You may notice some affiliate links in this blog which help me to bring you these free sewing tutorials. However, all my opinions are my own – I don't share what I don't love. 🙂