How To Make an Easy Instant Pot Cover in Just 10 Minutes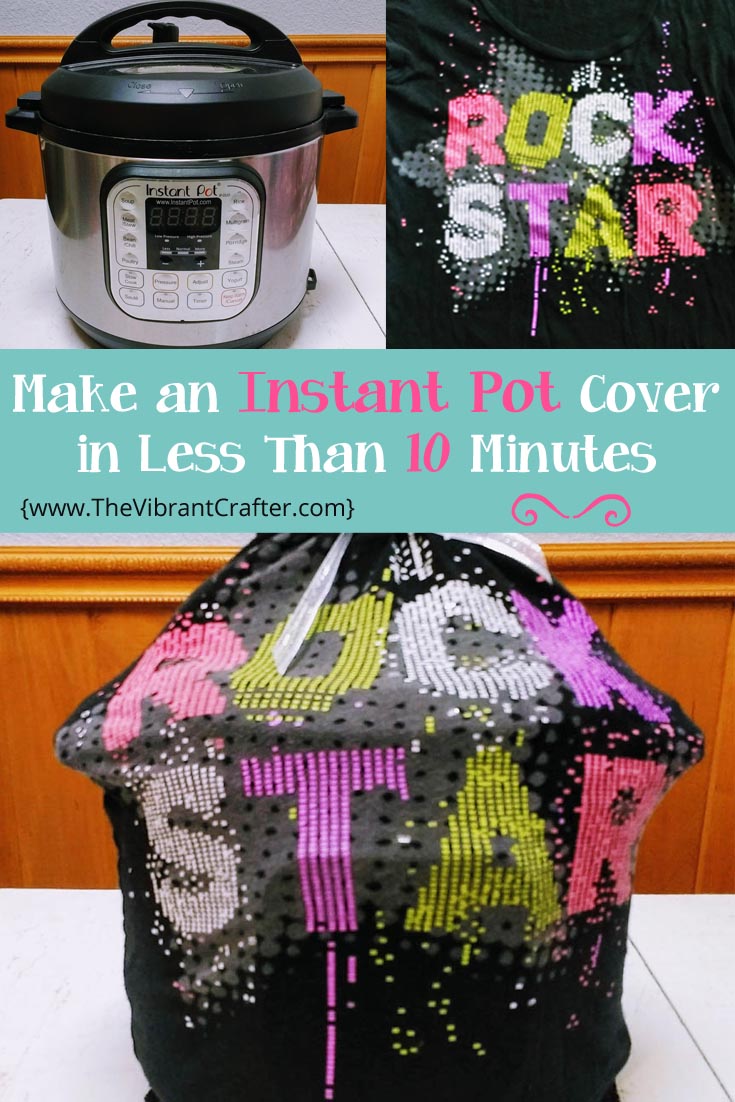 I don't know about you, but everywhere I turn these days I'm hearing about the Instant Pot. It's funny, but a few months ago we had never heard of it. Electric pressure cooker? Yes. Instant Pot? No.
I mean, we already had a slow cooker, a rice cooker and a vegetable steamer, but all our friends were raving about this fabulous cooking marvel.
Apparently, it is a new kitchen appliance described as a 6 Qt 7-in-1 Multi-Use Programmable Pressure Cooker, Slow Cooker, Rice Cooker, Steamer, Sauté, Yogurt Maker and Warmer. Phew, that's a mouthful!



We were feeling a little left out as yummy Instant Pot recipes started popping up on our Facebook news feeds. My husband was wondering if it cooks rice. (It does – wonderfully!)
Then his rather eccentric brother sent everyone in the family an Instant Pot. Really? I was like, "Why?" but Wayne-Face was all "Oooooohhhhh – an Instant Pot!" (Yeah – he's the cook in the family.)
Now before buying a significant piece of kitchen equipment we'd normally do some research and check all the feedback first. But the only Instant Pot review we got was the fact that Larry sent us one as a gift.
Larry is a bargain hunter, so he probably scooped up half a dozen in an Instant Pot sale somewhere. He was hooked, and now so are we.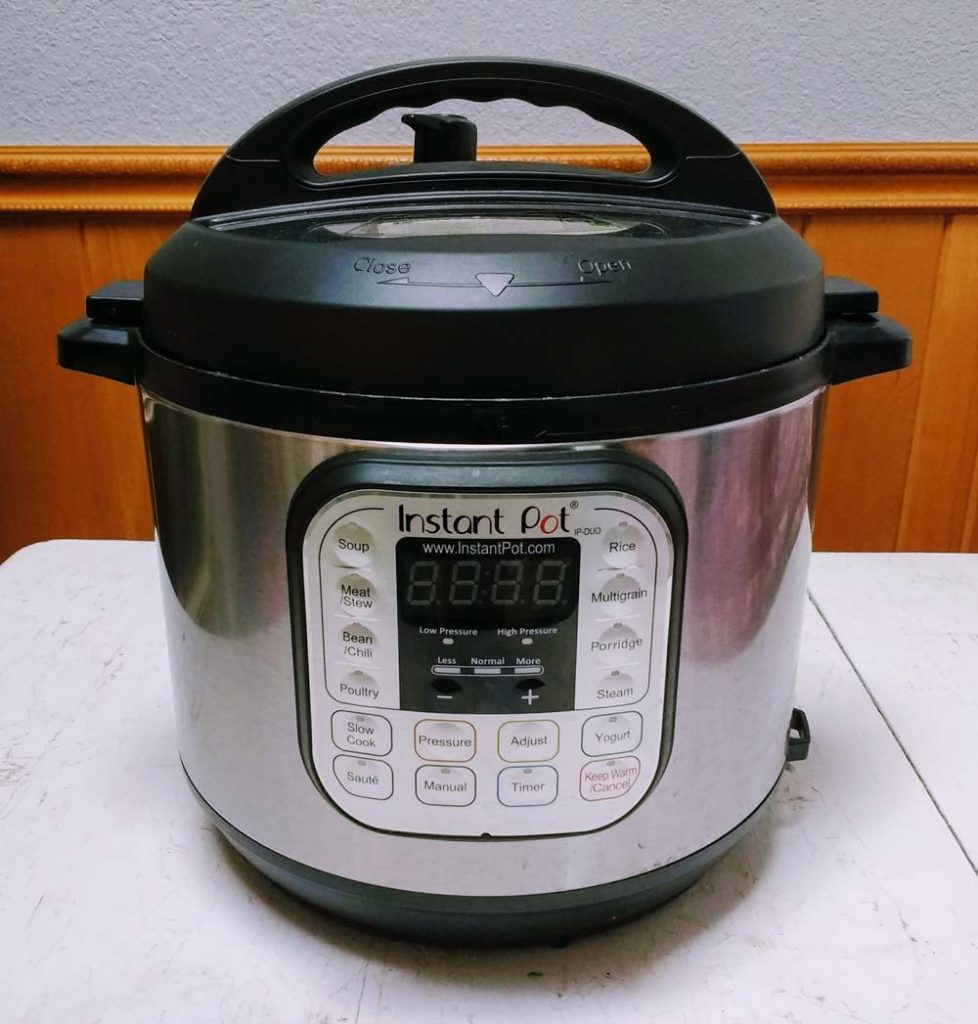 Our Instant Pot – he's become one of the family!
Now If you know me at all you know that I love to use up my scraps making fun and silly crafting projects. I am guessing – because you're reading this – that you're the same way.
To make up for my lack of culinary skills I do crafting projects. And when I saw poor Herbert (that's our Instant Pot's name) sitting there on the counter all chilly and sad I said, "this pot needs a cover!"
Wayne-Face wasn't too convinced, but I was determined to win him over with my handy-dandy, home made appliance cover. So here is my electric pressure cooker cover tutorial – enjoy!
Instant Pot Cover Tutorial
So let's dive in to this easy and fast Instant Pot cover tutorial. It's a piece of cake (and I believe you can cook cake in this magical contraption too!)
Step 1
Find a smallish tee shirt that pleases your senses. One that's headed for the landfill would work. The one I used belonged to one of my twins so it was a "pre-teen" size. It had a ton of holes near the bottom edge, but the words "Rock Star" in vibrant smushy colors were irresistible.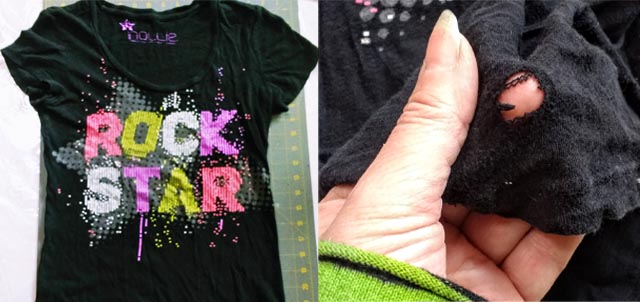 Step 2
Next, turn the tee shirt inside out and cut off both sleeves so that you make it a little bit narrower near the top. I used my trusty pinking shears to do this because I am obsessed with them, but regular scissors will do as long as they are nice and sharp.
Don't mess with the neckline – we're going to need that in a moment.
Straight stitch both sides closed, either by hand with a running stitch or on your sewing machine. You're going to end up with a sort of tube with a gap at the top where the neckline is and at the bottom of the tee shirt at the other end.
(Can you feel your Instant Pot getting excited?)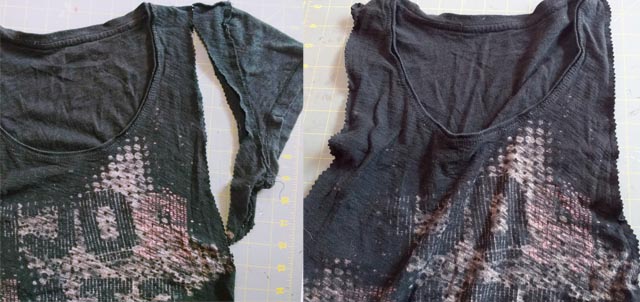 Step 3
Find the front center of the neckline of the shirt. Then take a small pair of sharp scissors (NOT your pinking shears in this case) and make a little slit in the edging of the neckline. You are going to want to thread some string, elastic or ribbon through the gap you just made.
Next, choose whatever works well with your shirt as your tie-string. In my case, because blingy, gaudy, fru-fru and hey – vibrant – is my thing, I chose ribbon. I started out with a loud magenta satin number, but ditched it in favor of a narrow sparkly silver ribbon. After all, this fabulously tacky gift is mainly for my husband.



Put a safety pin through one end of the string or ribbon. Then carefully and determinedly thread it all the way around the neckline until the safety pin comes out of the other end. This is possible, I promise. I do it all the time. Tie the ribbon in a knot or a bow.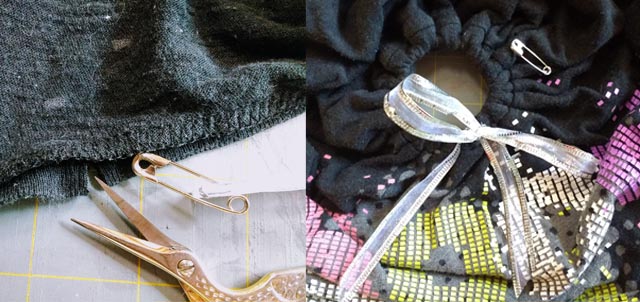 Step 4
Next we're going to make sure our nifty Instant Pot cover is the right height. Try the cover on your Instant Pot and mark where you think you should cut it.
Now, if you are a normal person, you will want to leave 1/2″ to 1″ extra, so that you can turn up the edge and hem it nice and neatly.
If you are like me, a bit on the Bohemian side, you won't do that. I like things to look just the right amount of scrappy and home-made. If you prefer that too, then cut it the exact length (well – height) of your Instant Pot. (It's really a good idea to use your pinking shears for this part. You'll see why).
Then do what I call my famous "frilly stitch". Basically you are going to use a zig-zag stitch with loudly contrasting thread to sew all the way around the bottom edge – twice.
Stretch your fabric as you go, gently on the first go around, then a little more aggressively the second time. Voila – you will end up with a funky, frilly, fru-fru edging that your family and friends are sure to admire.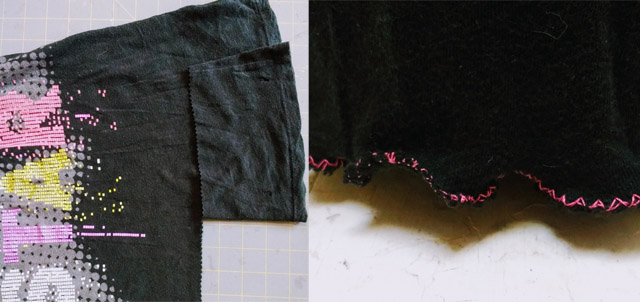 Try On Your Instant Pot Cover
(Not on YOU, silly. On your Instant Pot).
Now is the time for the big reveal. I am sure your loved ones and all your Facebook friends have been eagerly awaiting the moment you post pictures of your masterpiece. It's an accomplished feeling, to be sure, when you first see your beloved Instant Pot in all his or her glory. (Our Instant Pot, Herbert, was absolutely thrilled with his delightfully vibrant new outfit).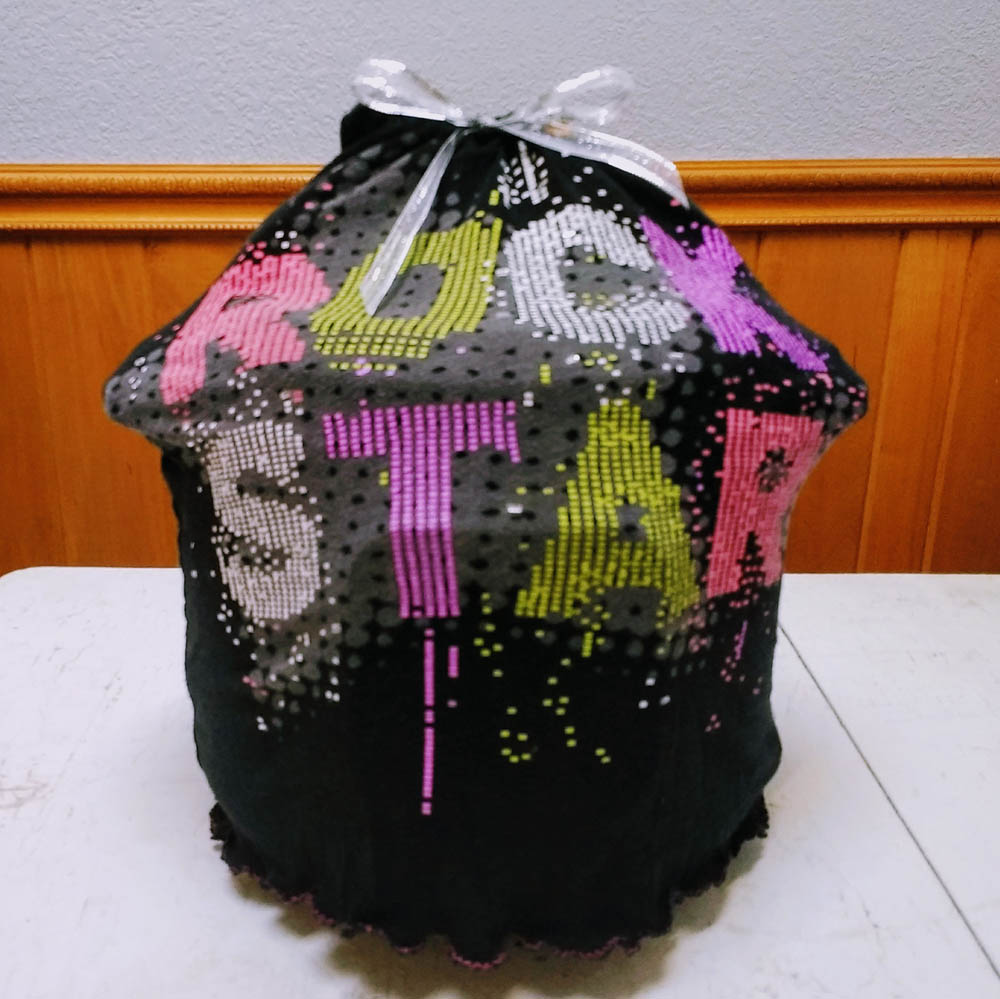 I really hope you enjoy making this project. I'd love to see how yours turns out, so feel free to post here in the comments, or in the visitor posts our Facebook Page.
Until the next irresistible project,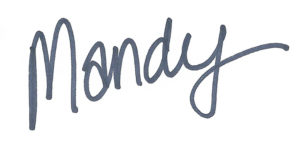 P.S. Coming soon – our family's Instant Pot review!
P.P.S. I just found out that there is a super-deluxe Instant Pot available that actually is IP-Smart and Bluetooth-Enabled – wow! I want one, don't you?
Just letting you know that I support these free crafting projects by sharing recommended products through Amazon and other companies. 🙂