Why Upcycle Vintage Quilts and Sheets?
Guest post by Jackie
In a world in which we globally consume 60% more of the Earth's resources each year than the planet can replenish, it's important to ensure you're recycling as much material as possible.
When upcycling, the idea is to turn something old or unwanted into a treasure that provides better environmental value.
If you're new to quilting, all you're basically doing is sewing multiple layers of materials together to form a thicker, warmer structure.  This makes it great as an upcycling project, and even better if you can add a few embroidery details into the mix to really add to its value and transform the piece.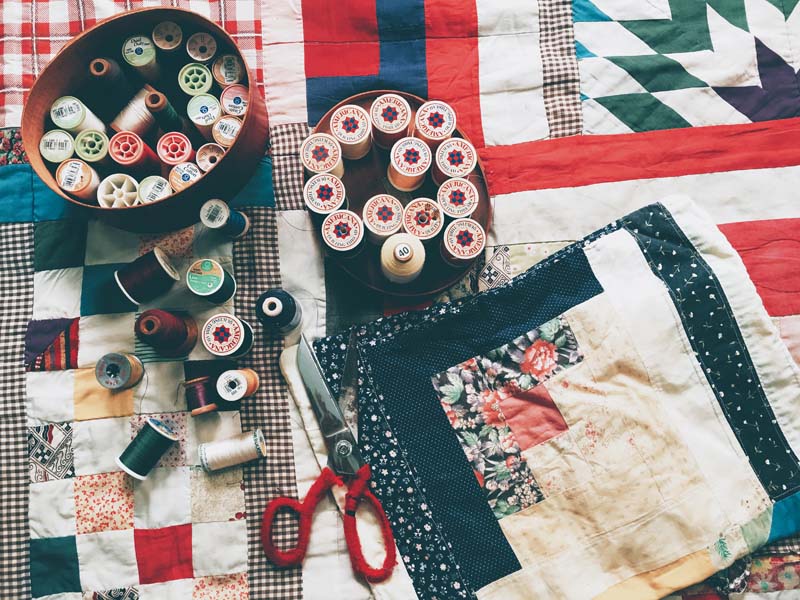 Do you need a quilting machine to upcycle quilts?
First things first.
When upcycling anything, it's a good idea to look at the tools necessary to complete the project. While you can use a regular sewing machine to upcycle a quilt, you might find yourself short on space as larger items such as quilts have a lot of areas that you're not working on at once.
A longarm quilting machine will give you the space you need to work on a larger quilt. A machine specifically dedicated to quilting will be able to handle thick fabrics and layers a lot more easily than a standard sewing machine, allowing your creativity to run wild.
As a general rule of thumb, if you're just getting started out as a quilter or simply want to creatively reuse an old quilt to spruce it up, a regular sewing machine will work just fine.
Easy DIY embroidery projects
One of the easiest ways to upcycle old materials around the house is to add creative, unique embroidery touches. Vintage linens, old quilts, and other similar items will all look brand new and completely transformed with a little embroidery work.
Vintage linens are a great place to start as they are versatile and allow you to transform them into placemats, napkins and much more. Depending on the thread count and quality, you can begin by dying them first and then decide on the quilting motifs.
While you might want to use a machine for the general work, free-motion hand quilting helps the details really stand out around the intricate parts. When you've got that all done, you can square up the piece and bind it as you like.
Upcycling a quilt will look fairly similar, except you will likely need to use a machine due to the thickness of the fabric. Transforming an old, tattered quilt into something vibrant and new is actually as easy as adding embroidery in some cases.
Chain, running, backstitch, vine, blanket, satin, French knots, and cross stitch are a few that are commonly used to embroider quilts and can easily be accomplished if you're smart about the embroidery floss you're using.
Transformative effects of embroidery
Perhaps one of the easiest ways to upcycle any item, embroidery can have a transformative effect on old quilts and household items that can easily be accomplished without much experience or practice.
Whether you use a quilting machine or not to spruce up old linens or quilts, incorporating decorative embroidery techniques will allow you to totally transform a piece and add to its value.
Hope this was helpful. Do you like to upcycled old clothing or linens using embroidery? Let us know in the comments below.
<3