Do you love beaded clothing so much you're inclined to wear it when you're going grocery shopping or even just doing laundry at home? Have you ever looked at a beaded garment and thought, "Wow – I really love that but I don't have the time to sew a ton of beads to my cut-offs"?
I don't know about you, but I am a huge fan of blingy, beaded clothing. I'll add beads to everything from wedding gowns to denim jeans, but I definitely don't spend hours doing it. Oh, no. I am kind of lazy that way. I like to find easy ways to do things and then share those tips with my vibrant crafter friends.
If the idea of adding beads to your clothing sounds wonderful but seems a little daunting, read on.
Beads Are Back In Style
In case you haven't noticed – beaded clothing is back in style. You'll see beads on everything from  casual skirts to jeans to swimwear and of course, wedding gowns. Sometimes the beading is subtle, and sometimes it REALLY. Stands. Out.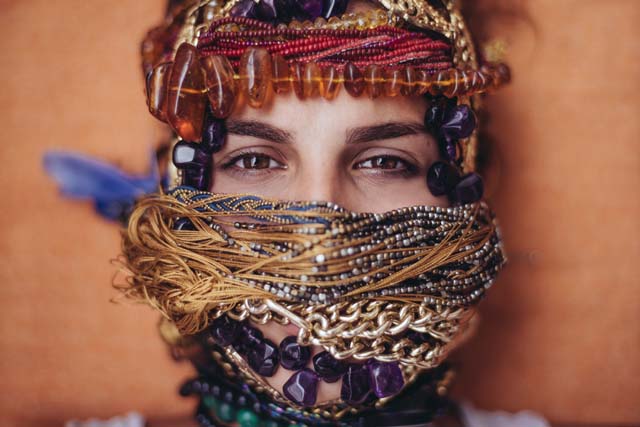 Refashionistas and upcycled garment makers are adding vintage or salvaged beads to all kinds of accessories from belts to purses, as well as hair adornments and even sunglasses.
You can even add reclaimed beading to accessories intended for evening wear, such as elbow-length gloves, pretty but dated shawls, and even shoes and boots. Nothing that is wearable is off limits where blingy beads are concerned.
Although you can find retail clothing with beads already on it, where's the fun (or eco-friendliness) in THAT? If you are a do-it-yourselfer or crafting enthusiast you can easily create your own beaded clothing – quickly.
How To Find Salvaged Beads For Upcycled Clothing
You KNOW I'm going to tell you to go to a thrift store or charity shop, right? Yard sales and flea markets also offer up broken or very cheap jewelry pieces you can use to transform lackluster clothing into something fabulous.
Before you leave the thrift shop (or wherever you are) make sure to ransack the clothing aisle for some cheap, discarded beaded garments. Sometimes you can find beaded pieces that are torn, stained, missing some of the beads or are just hopelessly outdated. These hard-to-sell items are an upcycler's dream and you can often pick them up for pennies.
Tips For Adding Beads To Upcycled Clothing
There are about a million ways to re-use old beaded clothing. Maybe a million and one, who knows.
One of my favorite strategies is to cut around the "good" areas of an old beaded garment, making sure to leave some fabric around the edges of the part that I want to re-use. Then I simply slap it onto the garment I am upcycling with a machine zig-zag or a little hand stitching and I'm done. All I sewed was the fabric. I didn't stitch on beads one by one by one . . .
If the beads are a decent size I'll consider stitching them on by hand if there aren't too many. I love to use funky beads to camouflage damaged parts of a garment I love that's otherwise wearable.
Try revamping an old top or skirt by sewing a few beads in spots that will emphasize part of the printed design. For example, outline letters or shapes with beads, or embellish the neckline or pockets with some shiny objects – like sequins – that catch the light.
Recently I added some beautiful champagne colored vintage glass beads to an upcycled boho peasant wedding gown. The results were stunning. It literally transformed the garment and made it looks stylish and unique.
What About Beaded Accessories?
Don't forget that you can use recycled beads to snazz up belts, sandals, purses and hair accessories. There's really no limit to ways you can reclaim broken jewelry and outdated or worn out beaded clothing.
Using a few fun beads, sequins, buttons or other embellishments can literally transform an outfit and rescue it from going into the landfill. Let your imagination run wild, be as lazy as possible (I know you're busy), and make something lovely today.
How about you? Do you have any beaded clothing strategies you'd like to share in the comments? Great!
Hugs and blessings,
Mandy
P.S. I know you know that I have some affiliate links on my blog. This is so that I can keep groceries in the house with three high schoolers raiding the fridge every few seconds. 🙂