How to Choose The Best Sewing Machine for Beginners
Are you looking for a beginner sewing machine? Do you feel a bit daunted by all the sewing machine choices out there? I know exactly how you feel, because I've been there!
In this post I'll walk you through my personal quest to find the best basic sewing machine for beginners. It's been an adventure and I'm glad to share my sewing machine journey with you.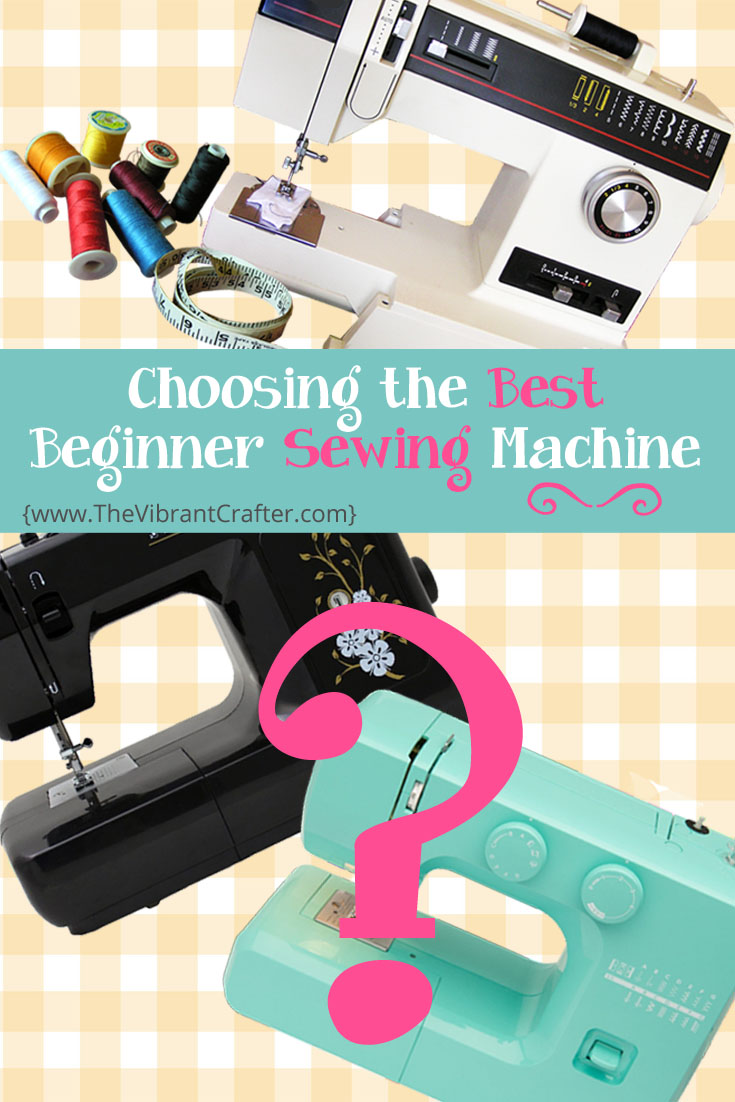 First of all, if you are looking to buy a super-duper, top-of-the-line-sewing machine with all the bells and whistles and fancy stitches, this is probably not the post for you.
Having said that, if you're ready to dive in and buy a truly fabulous machine, my favorite online sewing machine shop is Sewing Machines Plus. They have all kinds of yummy options!
Why Buy A Sewing Machine Online?
Some people live way out in the boondocks, like I do. There are no really outstanding, knowledgeable or well-stocked sewing machine stores anywhere near where we live, so my only option is to buy sewing supplies and accessories online.
While buying a sewing machine on Amazon is fine too, they are simply not equipped to answer your technical questions about their merchandise. What I love about Sewing Machines Plus is that they seem delighted for you to call and ask questions – the more technical the better!
Sewing Machines Plus also:
have a wonderful payment plan option
carry every sewing machine accessory you could ever need
offer free, fast shipping
do complicated sewing machine repairs and offer robust warranties.
will give you a 60-day money back guarantee
have been in the sewing machine business for over 40 years. They know their stuff!
However, in this article I'm going to assume you're a beginning sewer so I'll focus on helping you choose a basic starter sewing machine.
Your Very First Sewing Machine – Cheap and Cheerful!
As far as stitches go, the only stitches I personally really care about – even to this day – are the straight stitch (for sewing seams together) and the zig-zag stitch (for everything else).
The zig-zag stitch has all kinds of yummy uses, especially if you want to get into making upcycled women's clothing. (See my Women's Tunic Top tutorial for deets on how I use the zig-zag stitch to make colorful funky garments.)
I'm not kidding when I say that you can get some pretty good sewing machines at yard sales and thrift shops. I have gotten machines for around $25 that have done a great job – at least for a while.
A made-for-home sewing machine will break down and wear out if you use it every day, especially if you're working with heavy fabrics like leather or denim.
Sometimes, getting a cheap sewing machine repaired will cost you more than it's worth. You'd be better off saving up some money and investing in something more sturdy if you're serious about sewing.
But if you're a beginning sewer and you have less than $100 to spend, you can find a starter sewing machine on Craigslist, Ebay, Facebook, or at a local yard sale. Then you can sew your heart out until the machine finally quits and you're ready to invest in a better machine, like a Janome, for example.
Why Metal Sewing Machines Are Better For Beginners
No matter whether you're a beginner or are thinking of making sewing into a career, ideally, you'll want a metal sewing machine.
You can waste a couple of hundred bucks on a brand new plastic sewing machine if you want to. But the truth is that many of the older metal models will work better and last longer.
Why? A metal sewing machine is much easier to maintain. You can clean metal parts easily with a damp cloth and some chrome polish. Metal parts rarely break. And metal responds well to a good oiling (see below for sewing machine maintenance tips).
If you come across a metal sewing machine that looks like it was made in the 1960s, I say go for it. Make sure the wires look good (not chewed or frayed). Ask the owner (or the shop) if you can plug it in and try it out. If it seems to hum along nicely and does nice straight stitches, snap it up and take it home.
This old Kenmore sewing machine made in 1958 is a beauty. She was given to me by a dear friend who knows me well. Not only is she pretty (all sewing machines are "she"), but she is solid. None of her parts are plastic and therefore they don't snap off easily. A machine like this will last forever if properly loved.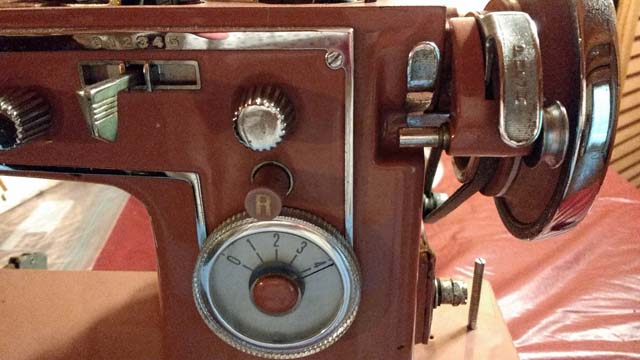 There are truly plenty of good old metal sewing machines to be found out there. You can find them on Ebay. Maybe a relative or friends has one you can buy or borrow.
When people hear that you want to learn to sew they will often offer you their old one for free or a trade. Tell them yes please, and thank you very much!
Your "Forever" Sewing Machine – Worth The Investment
Once you've had a chance to fiddle around with a couple of older sewing machines, maintaining them and creating some cool projects, you'll be ready to move on to your high-end, forever sewing machine and live happily ever after.
You're ready to buy a better sewing machine if:
made some cool creations with your old sewing machine, and you're addicted.
You know you love sewing, and
You have no doubt you'll be sewing for a long, long time – maybe even the rest of your life, it you're anything like me.
By the way, it's important to know that you'll need more than one sewing machine if you're going to be selling what you sew.
A backup sewing machine is a necessity when the other one is in the shop being repaired or serviced. Believe me, when you're as addicted as I am to sewing, even a few days without a machine is PAINFUL!!!
Sewing machines are like treasured heirlooms, passed down from mother to daughter, aunt to niece. When I inherited my mother's old Pfaff it was as if a whole new world opened up for me. It gave me a special connection to her every time I made something on it.
My Pick of 5 Best Sewing Machines for Beginners
When you're ready to invest in your forever sewing machine, be ready for a wonderful experience. There is nothing like sitting down to make a new creation on a sewing machine you know you can trust to be your faithful creative partner for many years to come.
These are my five top recommendations for the best beginner sewing machines (in alphabetical order).
Bernina
A Bernina sewing machine is my personal dream machine. When I got my Bernina Record 930 (made in 1982) I felt like I had moved from driving an old clunker to a Rolls Royce. There was simply no comparison. I fell madly in love (and a huge thank you to the kind client who gave her to me).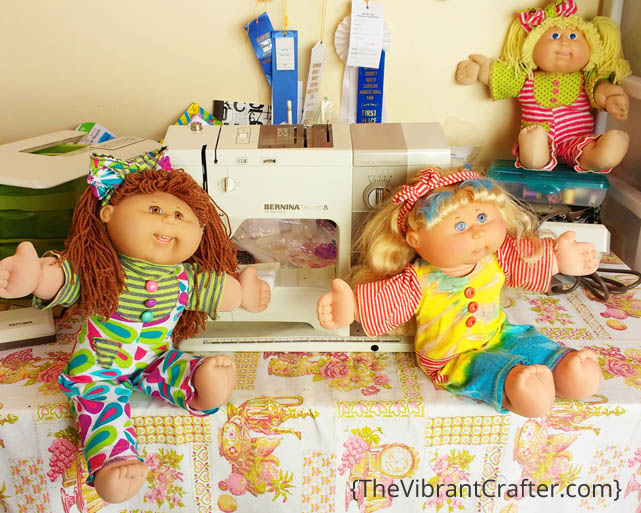 This is a picture of my Bernina being photo-bombed by some of my rescued Cabbage Patch dolls. They're happily wearing their new jumpsuits (pattern coming soon).
Now Bernina sewing machine prices have been traditionally high, and there's a reason for that. Bernina's are made in Switzerland. Have you ever tasted Swiss chocolate?
The Swiss know about engineering Good Things, and they happen to engineer two of my favorite things (sewing machines and chocolate).
The most outstanding feature of a Bernina sewing machine, in my opinion, is the automatic tension feature. If you've ever experienced a jammed bobbin, or spent hours fiddling around trying to figure out how to adjust tensions between the bobbin and the upper thread, then you will appreciate the design brilliance of a Bernina.
In all honesty, if I were going to buy another sewing machine right now, I would probably avoid the high retail price tags and buy a Bernina on Ebay.
You can find some excellent deals on Ebay and if you also use Ebates like I do, you'll get a small percentage of cash back. (Every little bit helps when there are sewing supplies to be bought!)
Bernina also makes fabulous high-end embroidery machines, but since I don't need that feature, and if money were no object, I would probably buy the Bernina B560 sewing machine or as close to it as I could possibly afford.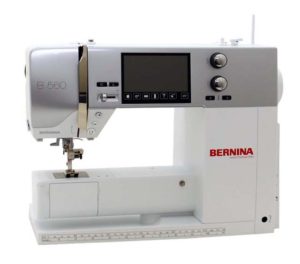 A truly great machine is a worthy investment if you're serious about sewing, so putting it on a credit card or even mortgaging my house would not be out of the question for the best sewing machine brand on the planet, in my opinion (only slightly joking about the house).
Brother
Brother sewing machines are hugely popular and you can buy the lower end models very cheaply at the big "mart" stores. However, if you buy a cheap sewing machine you may end up regretting it.
We've already talked about how I feel about plastic machines – I can't recommend them. However, Brother does make a couple of really nice beginner sewing machines that have gotten some excellent reviews from sewing machine enthusiasts, and one of them stands out in particular.
Although the Brother Project Runway Limited Edition PC 420 does have a plastic shell and is computerized rather than mechanical (not computerized) I am going to recommend it here for a few reasons.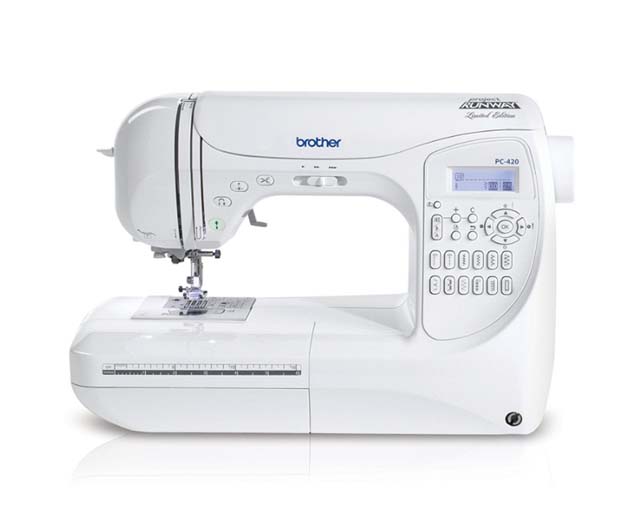 It's a compact and very light machine making it an ideal choice if you travel. If you're taking classes and want to carry it back and forth, or even if you're a student who wants to sew in the dorm room, this highly rated machine (over …. on AZ) is one I feel good about recommending.
The PC 420 is a bit of an overkill on the features – over 200 stitches and other bells and whistles you may never use, but on the plus side it's super easy to use, even for beginning sewists as young as 12, so it makes a great sewing machine for beginners.
Warning: if you're going to buy a used Brother, avoid the LSA 2400. Poorly made machine, terrible reviews. Just sayin'.
Janome
If you're a fan of Japanese engineering, the Janome sewing machines are generally highly rated, though the same "cheaper isn't better" rules apply to these machines also.
In my quest to find a simple but sturdy and affordable Janome beginner sewing machine, I found the Janome HD3000 on Amazon for a steal. It's a heavy duty sewing machine and the design is focused more on producing a professional finish than on a lot of extra bells and whistles you may never need.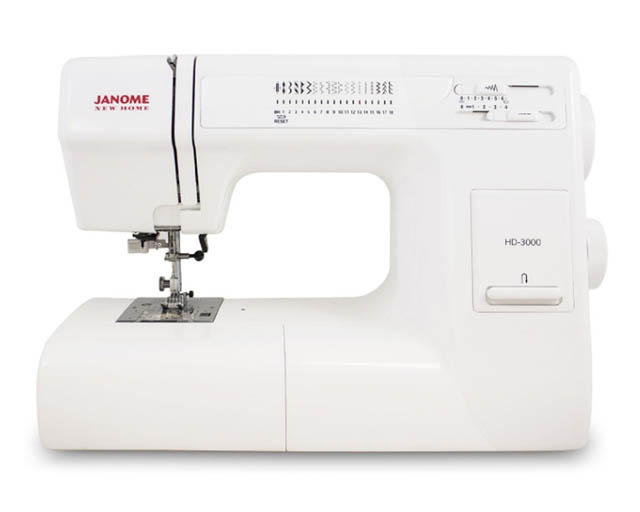 Having said that, this machine offers a very adequate choice of 18 stitches, an automatic needle threader (yay!) and a top loading bobbin (double yay, believe me!).
It also comes with a nice carrying case and a lot of yummy, useful accessories (needles, screwdriver, lint brush, seam ripper and more.
If you added the value of all the accessories and extras together the Janome HD3000 is an excellent value for the beginning sewer who needs a sturdy, reliable sewing machine.
Juki
Juki has been making highly-rated industrial sewing machines for decades. When they decided to get into the home sewing machine market they poured those years of experience and quality engineering into their products.
The machine I am going to recommend for you as a beginning sewer is the JUKI HZL-F300, which is part of Juki's flagship Exceed line. This is a sewing and quilting machine, is solidly built and produces excellent stitches. It also doesn't vibrate like some machines do (which I find very annoying). It just purrs along quietly.
Of all the mid-range machines, the 300 has lots of great features for a reasonable price. It offers over 100 different stitches and a handful of fonts if you're ready to try your hand at embroidered lettering.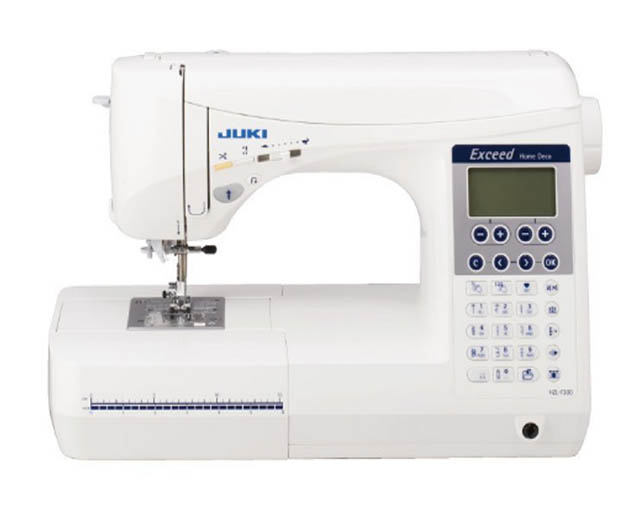 Another reason the JUKI HZL-F300 made it onto my best sewing machine for beginners list is that the tension is easy to adjust. This is hugely helpful to sewing beginners. Also, by all accounts the automatic threader works every time, and it features an automatic thread cutter which saves you having to hunt for your scissors each time you finish a seam.
Singer
Singer sewing machines have been around since the early 1850's – a long, long time in sewing machine years!
Over the many years of their existence, the Singer company has made some wonderful sewing machines. However, I am personally not impressed with Singer's current low-end (cheap) sewing machines. I'm talking about the ones that you can buy in WalMart and similar stores. It seems to me they are cheaply made and their plastic parts break easily – not an easy fix.
Perhaps that's why Singer decided to come out with their Singer 4411 Heavy Duty Sewing Machine.
This machine is made from metal, has a simple operation and would make a great machine if you were wanting to start sewing and maybe transition into making a side business with your sewing machine.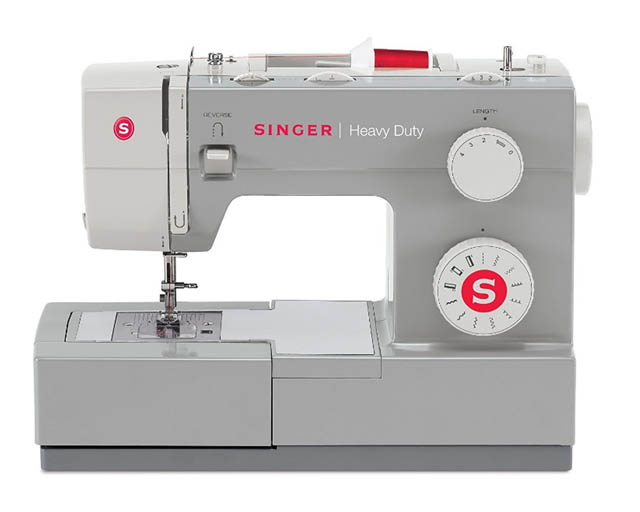 For a VERY affordable machine, this has just the right amount of bells and whistles  such as:
11 Built-in Stitches – 6 Basic Stitches, 4 Decorative Stitches, 1 Built-in Buttonhole stitch

An adjustable needle position feature: The needle can be switched between any of three available positions to accommodate inserting a zipper, doing decorative top-stitching and cording (useful for pillows and upholstery).

It's STURDY. The heavy-duty metal frame adds stability, and the powerful motor means that you can sew a higher quantity of items in a shorter space of time. UP to 1,100 stitches per minute is achievable with this machine.

An adjustable presser foot, allowing you to work with both very lightweight fabrics and heavy-weight fabrics easily.
The Singer 4411 boasts over 1,500 glowing reviews on Amazon, and as I mentioned – it is very affordable. So maybe Singer took the hint after criticism of their plastic machines and decided to make this heavy duty metal sewing machine that's easy for beginners to use. Job well done.
Don't Forget Your Sewing Machine Accessories
There's nothing more frustrating than getting your new sewing machine and then realizing you can't actually start sewing because you don't have everything you need. Here's my list of essential supplies you'll need to buy with your sewing machine so that you can get started sewing today.
A tote, roller bag or sewing machine carrying case – call it what you will – you MUST have one, especially if you have a heavy duty machine. I could not be without my beautiful, purple tote bag on wheels. I promise you, if you don't have a way to easily take your sewing machine with you when you go anywhere you'll be sad.
Another one I would seriously consider getting is a three-tiered sewing machine tote bag. Think how organized you'll feel, with pockets and nooks galore in which to store your nifty crafting and sewing supplies. Plus, she's a beauty.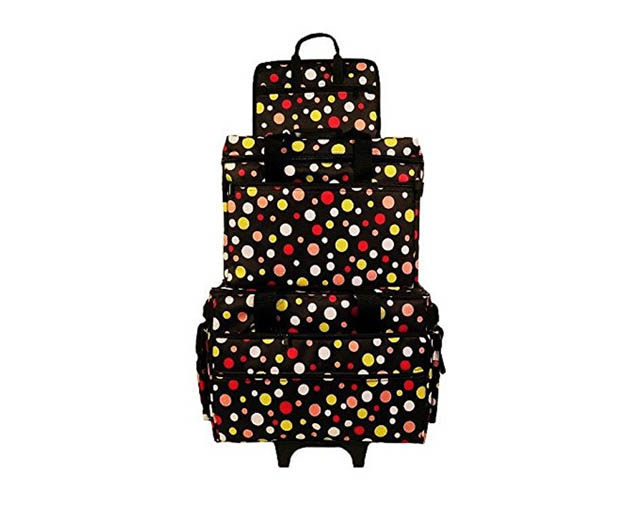 You're also going to need to buy:
~ sewing machine needles (they come in different sizes for different thread – get a variety)
~ Scissors – pinking shears, regular fabric scissors and embroidery scissors for cutting into tricky spots.
A disappearing ink marker
Good quality thread (get a selection of different colors – you'll need it all)
A tape measure (I like one that has inches on one side and centimeters on the other side)
An adjustable dressmaking form (oh – you DO want one of these! Is your birthday coming up?)
And probably a couple of other things that I've forgotten.
But this should get you started.
Once you're ready, come join us on Facebook and feel free to ask questions. Join the doll rescue group if you're interested in rescuing dolls (especially Cabbage Patch). And join the upcycled clothing and crafts group if you're into making upcycled clothing. Or both.
I really, really hope this article was helpful to you. Which sewing machine did you decide was the best for you as a beginner? Post any questions you have in the comments below, and happy sewing!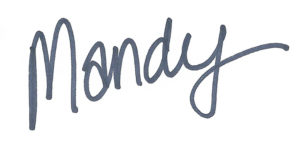 Mandy